PFOA and PFOS Water Contamination
What is PFOA and PFOS?
Perfluorooctanoic acid (PFOA) and Perfluorooctane sulfonate (PFOS) have widespread industrial and commercial applications. They are both representatives of Perfluoroalkyl and Polyfluoroalkyl substances (PFAS) which are found in fire-fighting foam, industrial waste, stain resistant carpets, carpet cleaning products, microwave popcorn bags, non-stick pans and more.
PFOA and PFOS, which are also known as "C8" PFAS because of its 8 carbon atoms chain, are man-made chemicals which have the potential to be a health concern because they can stay in the environment and in the human body for long periods of time.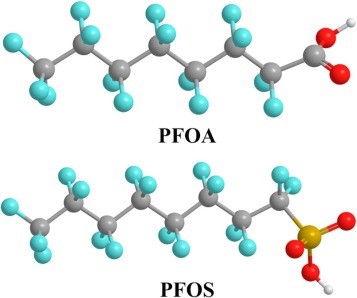 PFOA and PFOS are also known as C8 because of its chain of eight carbon atoms.
Unfortunately, that means that when PFAS contaminates a body of water, it can stay in the water for a long period of time without deteriorating. Even after being ingested, PFAS will stay in the human body for a long period of time.
How to Know If Your Drinking Waters Are Contaminated
If you're concerned about PFAS levels in your water, there are some helpful tools you can check out to see if water systems near you are contaminated.
The first tool is an interactive map by the Environmental Working Group (EWG) which allows you to track PFAS pollution in different water systems, military bases, airports, industrial plants, dumps, firefighting training sites, etc. all across the nation. You can check the map below to see if there are any water systems contaminated in your area.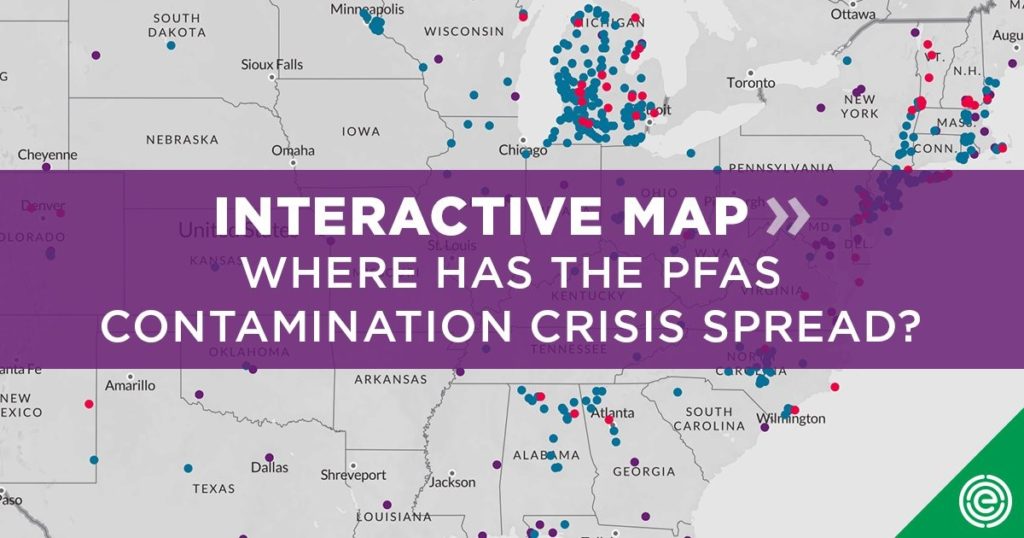 The second tool is an online mapping tool, provided by the EPA, which allows you to research water sources and providers in areas all across the United States. You can enter your zip code and locate your drinking water provider(s) to see if it matches any potential contaminated sources from the EWG map above.
What are the effects of PFOA and PFOS on the body
The Environmental Health Perspectives (EHP) – a peer-reviewed journal supported by the U.S. National Institute of Environmental Health Sciences, a branch of the National Institute of Health – published a study done by a team of court-appointed epidemiologists who delivered four reports to the court concluding that PFOA was probably linked to six outcomes. Two of those possible outcomes reported were kidney cancer and testicular cancer.
The American Cancer Society also found that studies in humans have looked at people exposed to PFOA and links them to testicular cancer and kidney cancer. They also cited the International Agency for Research on Cancer (IARC), a part of the World Health Organization (WHO), who has classified PFOA as "possibly carcinogenic to humans" due to the evidence that it can cause testicular and kidney cancer.
The EHP also found that PFOA exposure was associated with kidney and testicular cancer in Mid-Ohio Valley residents who were exposed to PFOA in drinking water due to chemical plant emissions.
What to do next
Douglas & London founding partner Gary Douglas served as co-lead counsel in a litigation representing unsuspecting residents in the Mid-Ohio Valley against DuPont, who dumped these dangerous chemicals into the Ohio River Valley ecosystem. Before securing a $671 million settlement from DuPont, the attorneys of Douglas & London were able to secure verdicts of $1.6 million, $5.1 million and $12.5 million on behalf of our clients.
This is the expertise and experience that the attorneys of Douglas & London will bring to your case. However, before you contact us, you must be diagnosed with testicular or kidney cancer in order to be considered. If you live in an area where the water systems have been contaminated, please contact a doctor and get screened for cancer.
You may qualify to file for a lawsuit if you have:
Lived in an area in which the water systems have been contaminated
Have been diagnosed with testicular cancer or kidney cancer
Please note: Douglas & London is a law firm and cannot give medical advice. Please reach out to a medical professional with all health related questions.
Call Douglas & London
If you or someone you know were contaminated with PFAS (PFOA/PFOS) and are now diagnosed with Testicular Cancer or Kidney Cancer, please feel free to contact our experts at Douglas & London. You may be entitled to compensation and you don't pay unless we win. To apply for a free consultation, fill out the form on the side of the screen, chat with us or give us a call at (212) 566-7500.