Scooter Accident Lawyers in New York City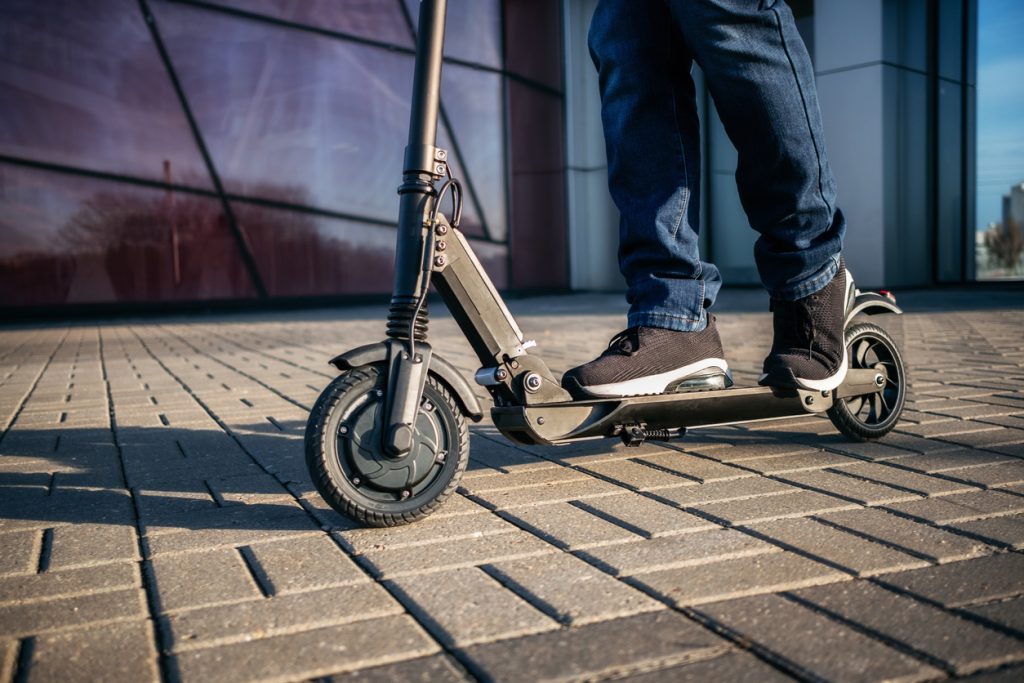 Thousands of electric shared scooters can be seen zipping around Queens, Greenpoint, Bushwick, Williamsburg, and Manhattan. While they're undoubtedly a fun, convenient, and trendy mode of transportation, they also increase the risk of accidents. All you need is a driver's license and a credit card to operate one, even though they reach speeds of 30 mph– five miles per hour above the average speed at which crashes with severe injuries occur.
If you were recently injured in a collision with one of these speeding bikes, you might have the right to seek compensation for your injuries by filing a personal injury lawsuit in civil court. Contact an NYC scooter accident lawyerat Douglas & London for a free consultation to explore your full set of legal options. You only pay a legal fee if we secure money on your behalf.
Revel Scooter Accident Statistics
Revel is an NYC-based startup that began operations in Brooklyn and Queens in 2018. Their 68-scooter pilot program rapidly expanded to over 1,000 within a year, along with expansion to metro areas like DC, Austin, Miami, and Oakland. According to the New York Post, four months after the scooters debuted in Manhattan, service was suspended after the deaths of three users in 10 days.
Revel's fatality rate in NYC was recorded as 1.38 deaths per million trips.
By comparison, Citi Bike's death rate was 0.02 deaths per million trips.
In other words, Revel mopeds have seen 69x more deaths per million trips than Citi Bike.
Three Revel riders and one pedestrian were killed over four months.
One month later, Revel was back on city streets again with new safety protocols, including watching mandatory "how-to" videos, ending overnight rentals, sending an extended safety text to all new riders, and requiring riders to "snap a helmet selfie" before each ride.
In addition, The New York Times reports that these changes came about after it was discovered 17% of Revel crashes occurred on the user's first ride, and crash rates among all users rose 59% in the overnight hours. Three of five fatalities involved riders losing control of their scooters and not wearing helmets.
Revel scooter accident lawsuits allege a lack of adequate instruction, as well as maintenance problems, that place at least some of the blame on the rideshare company.
Bird Scooter Accident Statistics in NYC
Santa Monica-based Bird is another one of the largest scooter-sharing companies in New York City. After they debuted in California in September 2017, a host of scooter injuries began popping up in emergency rooms over the next few months.
Los Angeles ER Physician Dr. Tarak Trivedi identified at least 249 injuries tied to the scooters.
40% of the Bird scooter injuries involved head trauma. Just 4% of riders were wearing helmets.
"I don't think our roads are ready for this," Dr. Trivedi has said.
Government studies from NHTSA have estimated 20 rider injuries for every 100,000 scooter trips.
NHTSA research also indicates that the self-reported injury rate is 37.2 injuries per million miles, or 1 in 26,881 miles traveled.
While Bird recommended that users wear a helmet, they also fought a California proposal to make it mandatory. The company argued that helmet requirements could lead to fewer riders, and that would increase the risk of injury, as "there's a safety in numbers." Like Revel, Bird no longer allows overnight rentals and advocates for more bike lanes to help riders navigate the cities where they operate. These efforts may not be enough to prevent future serious accidents. Contact a Bird scooter accident lawyerif you have already been hurt in a collision that you feel could have been prevented.
Common Electric Scooter Injuries
A 2020 study by the Henry Ford Health System found the most common rideshare scooter injuries to be:
Traumatic Brain injuries (28%)
Lacerations (24.9%)
Contusions and Abrasions (15.6%)
Concussions (11.1%)
Bone Fractures (7.8%)
Organ Damage (4.5%)
Though not mentioned in this particular study, ligament or nerve damage, spinal cord injuries, facial and dental injuries, burns, and surgeries requiring amputation are possible injuries associated with scooter collisions. Severe internal bleeding and death can also be consequences of these accidents.
Types of Scooter Accidents
Scooters can be involved in a number of accidents, such as:
Scooter / Pedestrian Accidents – A scooter rider may unlawfully ride on sidewalks or fail to watch where they're going. Other times, they may abandon scooters outside their docking stations–causing a slip, trip, and fall hazard for passersby.
Scooter / Bicycle Collisions – Scooters can reach speeds of 30 miles per hour–double that of most bicycles, yet they have to share the cycling lane. Negligent riders can cause bicyclists to careen into nearby structures or slide out.
Scooter / Motor Vehicle Collisions – Riders who violate traffic laws, fail to pay attention, or engage in risky behaviors behind the wheel can run scooter riders over or cause them to collide with other vehicles and objects. Riders are often struck by vehicles in crosswalks, parking lots, and driveways.
Scooter Manufacturing Defects – Companies are responsible for designing and manufacturing safe vehicles. They are liable for providing adequate instructions and warning users of known risks. The rideshare company can also be held responsible for failing to maintain its vehicle fleet with safe brakes, tires, and other components.
Local Governments – Unsafe construction projects or potholes can cause scooter riders to lose control of their vehicles through little to no fault of their own. A claim can be filed against the government, but it must be initiated quickly after the accident.
Does New York's No-Fault Auto Insurance Cover Electric Scooter Accidents?
If you're a scooter rider who hits someone: Rideshare companies like Revel may help compensate cyclists, pedestrians, or motorists involved in the accident and cover some property damage. You're liable for the first $500 in damage for each insurance claim, but after that, Revel's user agreement agrees to pay up to $25,000 per person, $50,000 per accident, and $10,000 in property damage. Injured parties may still contact a pedestrian or New York bicycle accident attorney if their injuries are in excess of the insurance policy payout.
If you're injured while riding a scooter: Revel classifies its vehicles as "motorcycles." In New York, motorcyclists are not entitled to no-fault benefits, which pay for medical treatment no matter the cause. However, riders injured in electric scooter accidents have the right to pursue claims for compensation if the injuries can be traced back to negligence, failure to instruct, or a scooter defect.
How a Douglas & London New York Bicycle Accident AttorneyCan Help
Contact Douglas & London to get in touch with a personal injury lawyer in New York City with experience with scooter lawsuits. We work on a contingency basis, which means there is no attorney fee unless we win. Our award-winning attorneys have decades of experience and have recovered over $4 billion on behalf of our personal injury clients. Contact us any time to schedule a free consultation.